Like No Other Scale in the World
Engineered for Optimal Performance — the AutoScale™ Max
is a Rugged Powerhouse
Meticulously engineered from the ground up by a team of experts in close collaboration with the CATAPULT® community, AutoScale Max™ embodies the epitome of retail innovation. Proudly made in the USA, this rugged masterpiece combines world-class materials to create a rock-solid product that ensures unparalleled durability and unwavering market leading performance for years to come.
A New Ultra Class of Scale with 1,640 Feet of Label Capacity
More than five football fields and 11x bigger than standard industry capacity, this massive roll means less downtime and less wear and tear on your scale. While most industry scales are lined, the AutoScale Max linerless rolls make it eco-friendly and waste-free. No broken doors, no hassle, no mess. Just simplicity and efficiency.
Effortlessly Weighs Your Largest Items
with 209 Square Inches of Platter Room
ECRS's biggest scale holds up to 60 pounds with a built-in accelerometer for on-the-fly leveling. Say goodbye to struggling with oversized items on standard scales. Simplify your operations and enhance your customers' shopping experience with the AutoScale Max™ deli scale platter.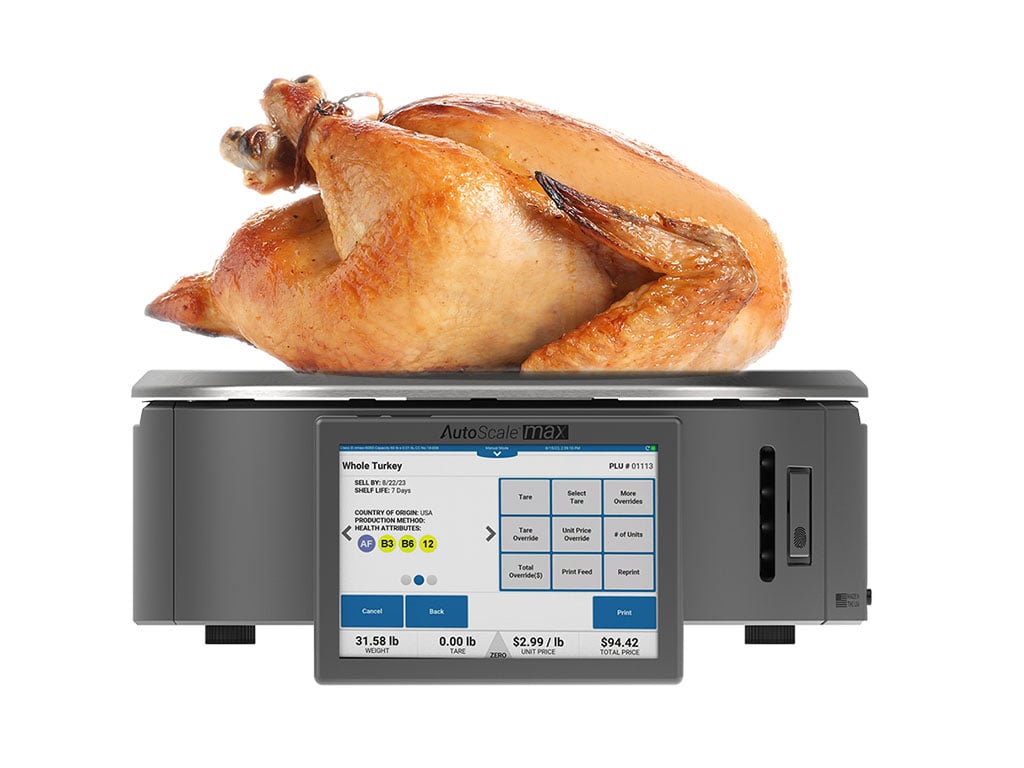 New Produce Recognition Technology
in Self-Service Mode
Using self-service produce scales, strategically located within your store, has proven to increase accuracy and dramatically speed up both cashier and self-checkout lanes. AutoScale Max™ self-service option provides your customers the best experience by way of advanced produce recognition using the ECRS Vision Match technology. Your customers place the produce item on the scale, bagged or un-bagged, and AutoScale quickly recognizes the item and provides the customer a list of likely items to choose from.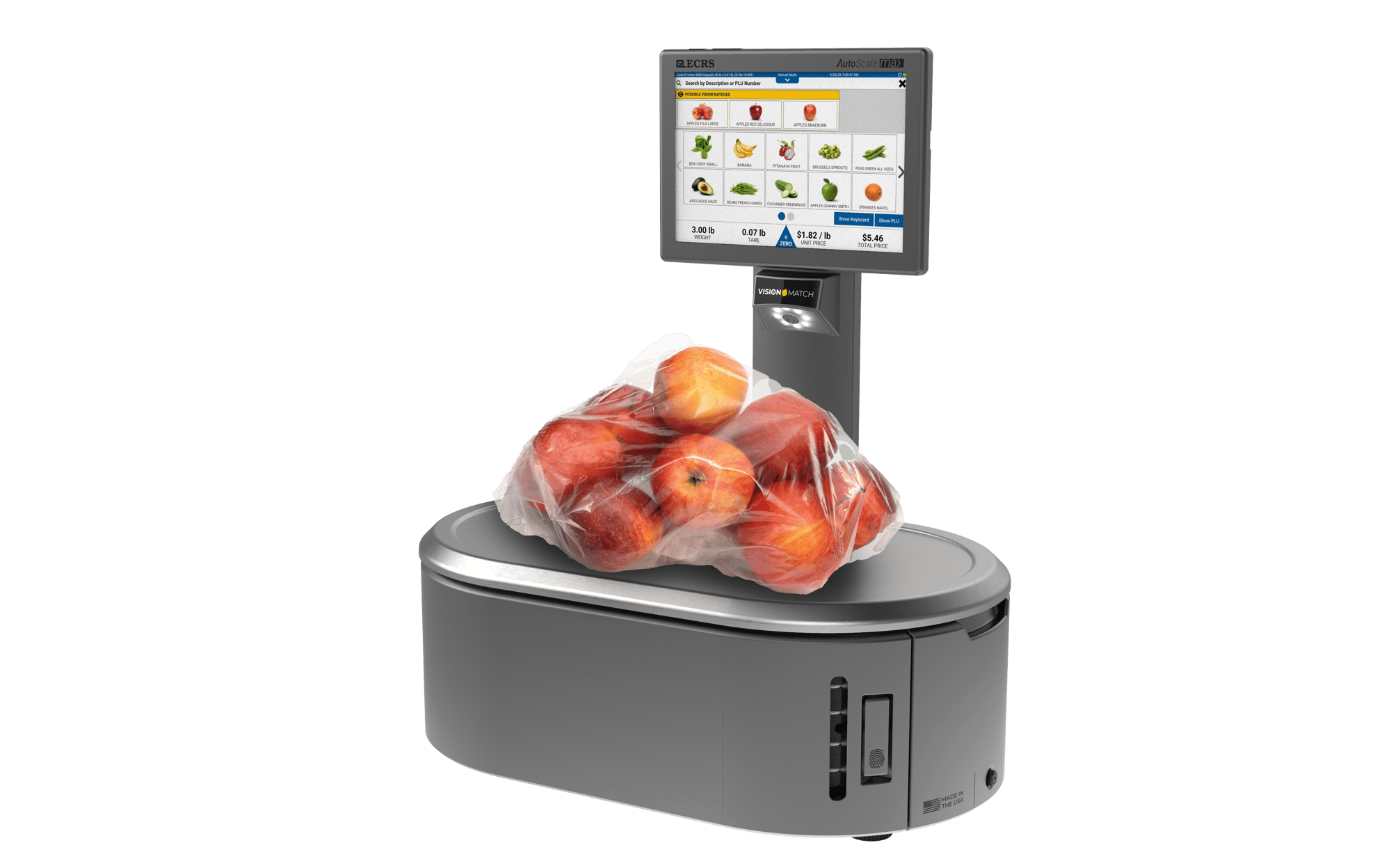 Zero Compromise On Every Component
ECRS made zero compromises on every component, only the best would do. For example, the printer is remarkably fast and durable, designed to exceed 1.3 million cuts with no cleaning, at speeds up to 7.5 inches per second. Designed from the ground up to be easy to service and upgrade. The innovative design leverages the Microsoft Surface Tablet to provide not only the fastest processing power of any scale on the market today, but also a market leading vibrant touch display. The surface tablet and the printer can be replaced in the field, within minutes.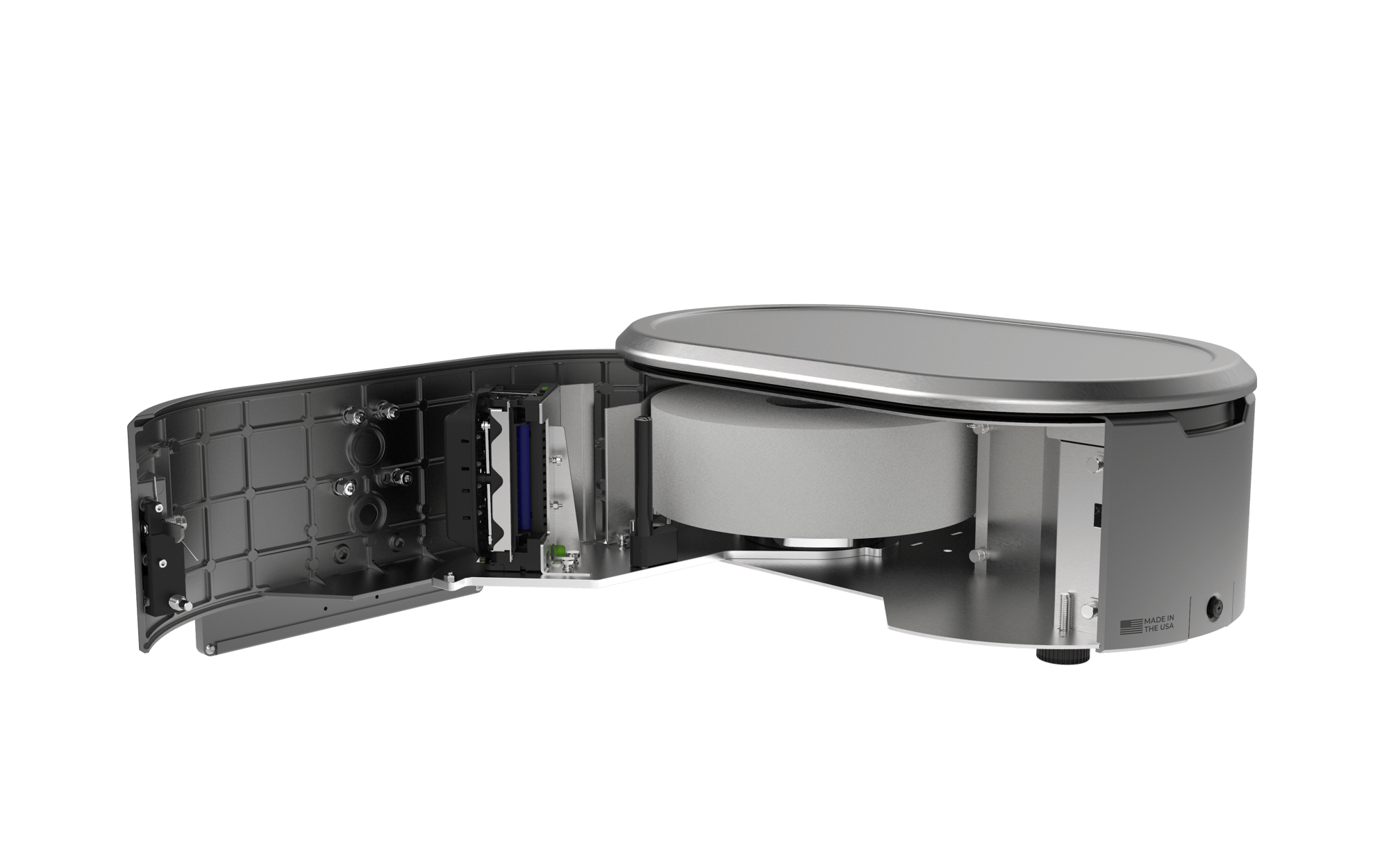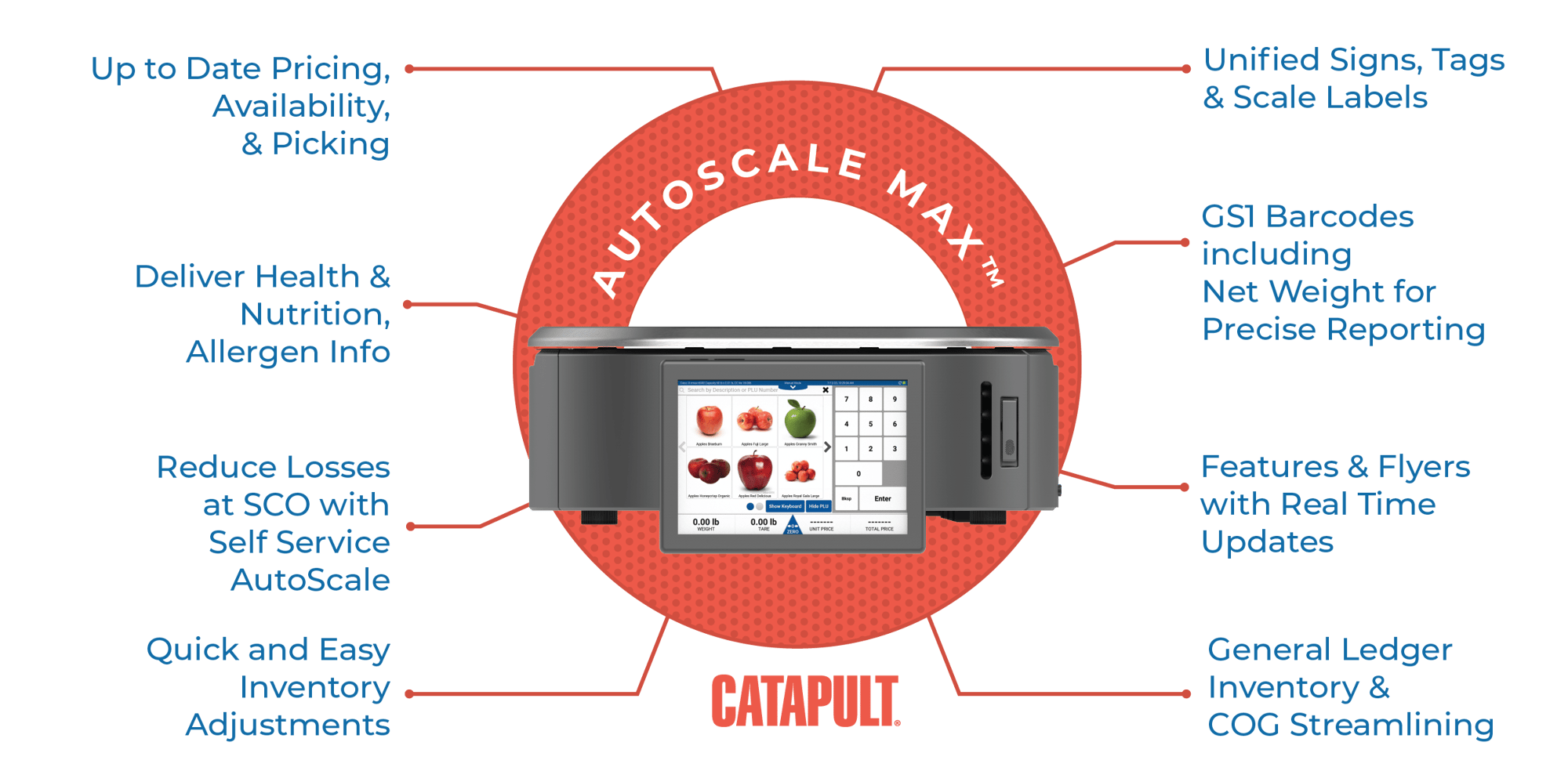 Intentionally Designed for Sustainability
Plastics by nature are not materials that are in demand for recycling and are not biodegradable. The fact is, the world's landfills and oceans are full of plastics. AutoScale Max was intentionally designed to not add to the plastic problem and instead was designed from the ground up to be highly recyclable. Constructed primarily from materials that are in high demand and desired by the recycling industry, the AutoScale Max uses materials such as aluminum, high-grade stainless steel and mild steel, achieving a unit made with less than 5% plastic. Just as important, AutoScale Max was designed to eliminate unneeded label liner waste eliminating over 1640 feet of liner tape, over 5 football fields long, with each roll used. Finally, the use of the Microsoft Surface tablet provides for extreme upgradability, allowing the retailer to future proof the scale, with the desired outcome of extending the life of the scale past several generations of a normal scale lifetimes.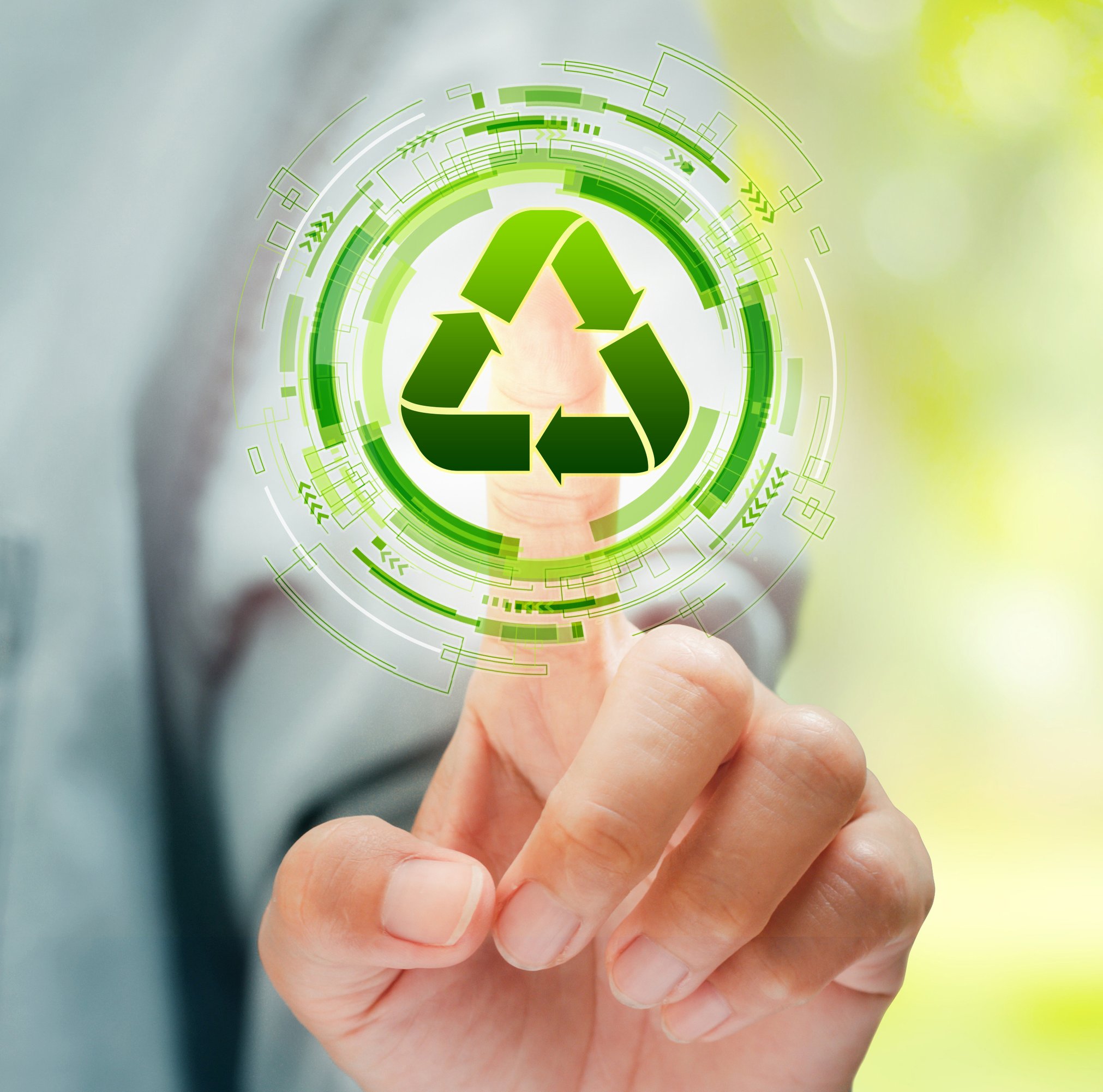 At-a-Glance Features
Plug & Play at Go-Live – it works with CATAPULT WebOffice


right out of the box.

Can be operated by customers (self-service mode)




or staff (attended mode).

Simplifies support.

Included within the comprehensive ECRS Services and Upgrade agreement.
Produce recognition in self-service mode.

Centralized HQ or store-level item maintenance.

Manage all scale settings from HQ via WebOffice.

No third-party scale integration software needed.

Bidirectional data replication between HQ and the stores.
Pre-Order Today!
Be the first in line to receive ECRS's newest innovation.
A $100 non-refundable deposit is required to reserve your pre-order spot. A limited number of AutoScale Max pre-orders are tentatively scheduled to ship in November 2023. Orders will be shipped in the order that the pre-order form was received.