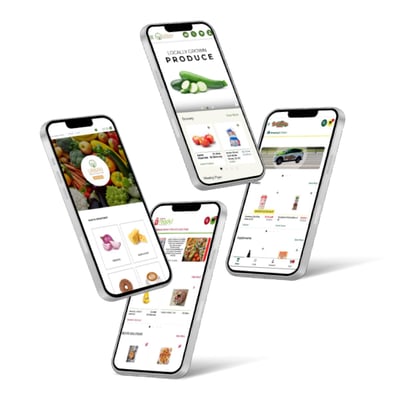 Let customers shop your store from anywhere at any time.
Take the power of Unified Transaction Logic™ to the e-commerce space! Give your customers access to your store anywhere and anytime. CATAPULT WebCart redefines what online ordering can do for your store and customer experience.
WebCart Feature Highlights
Unified Transaction Logic
Mulitple Order Types
Accelerated Checkout
WebCart-Specific Price Level
Text and Email Alerts
Custom Mobile Branded App
Delivery Integration
Accurate On-hand Visibility
EBT SNAP/CASH Payment Option
SNAP While You Shop
ECRS is proud to offer all WebCart users this first-of-its-kind feature. When used in-store, CATAPULT WebCart's progressive web app feature, Accelerated Checkout, allows store items to be scanned via shoppers' phones, automatically adding them to a virtual basket. If the item is SNAP eligible, the user will see their estimated available balance change in real-time. If the item is removed from the basket before checkout, the value of the removed item will be returned to the estimated balance. This empowers the shopper to make informed decisions on their own terms, giving them peace of mind and confidence that they will have sufficient funds at checkout to purchase their groceries. See how this feature works in this short video.
Recommendation Engine
Machine learning instantaneously recommends items related to previous purchases and browsing history, giving you the ability to passively grow basket size.
Intra/Interstate Shipping
In addition to the existing delivery integration, WebCart will be able to ship within and outside your state with the integration to over 50 shipping partners.
Fraud Protection
Our fraud prevention partner assesses every transaction before approval. Built-in liability protection automatically refunds any inaccurately approved sale.
What WebCart Users Are Saying
"The format is easy to navigate and provides our customers with an enhanced online shopping experience. The added List features for Favorites, Save For Later, and Buy It Again all contribute to increased basket size. The mobile web app also provides our customers with just another platform to easily access WebCart. Kudos to the WebCart Team!"
"WebCart helps us attract different types of customers, especially those that are too busy to shop in-person. It's very easy for customers to use when ordering on the website or mobile. We can view what is in-stock all at once, which helps us understand the difference in preference from customers who purchase online rather than in store."
"Redner's Ready with CATAPULT WebCart allows us to provide Redner's-level service throughout the customer experience without losing our touch. While the third parties did get us into the e-Commerce game, customers lost their personal connection to our brand. At times, they would get stuck dealing with the third party rather than our store associates."
Frequently Asked Questions
How do I set up WebCart?
ECRS handles the entire process of getting WebCart setup and hosted in the cloud for you. That way you can focus on your e-commerce strategy while we take care of the technical details.
How do my customers pick up their orders?
WebCart offers several different ways for customers to pick up orders. Depending on the store's ability and the customer's preference customers can pick from in-store pick up, curbside, or delivery.
What if I have multiple stores?
If you operate a chain, each of your stores will have its own instance of WebCart. When a customer first visits WebCart, they will be asked to choose the store location where they want to shop and can switch store locations thereafter as needed.
I have items that are sold in some stores, but not others, how does WebCart handle this?
In the WebCart section of an Inventory record, you can choose which items will be displayed in WebCart for each store.
How do I integrate WebCart with my existing store website?
If you already have a store website that is established and well known by a lot of your customers, you'll probably want to leave it right where it is and continue to direct your customers to it. Once WebCart is live, you can put a link on your current website that takes your customers to your new WebCart site. So, then you'll have two websites that work in tandem with each other. If you don't already have a website, WebCart can be your store's primary presence on the web.
How do I market my online store?
We built a comprehensive marketing kit just for you! Containing pro tips from successful WebCart users and industry thought leaders, these steps are sure to make your online store a success
Marketing & Training Resources
The Online Manual and Online Learning Center have many WebCart resources to assist you in the setup, maintenance, marketing, and optimization of your e-Commerce operations. Here are some of the highlights!
Get WebCart Today!
For more information, please complete the form below.