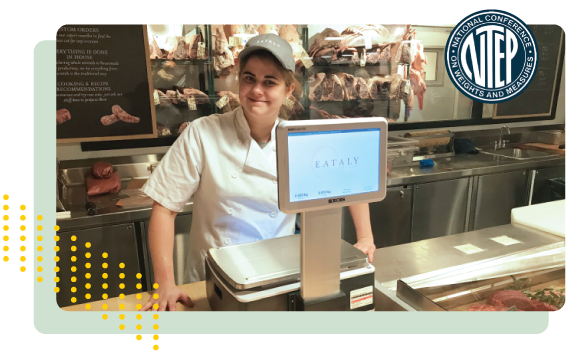 The AutoScale Redefines Retail Scale Technology
Designed around the simple concept of a friction-free transaction experience, the AutoScale is a leap into the future of retail. Embracing the efficiency of enterprise automation, it works seamlessly with all other transaction touchpoints in your store without the need for middleware.
SPECSSpecifications for Every Use Case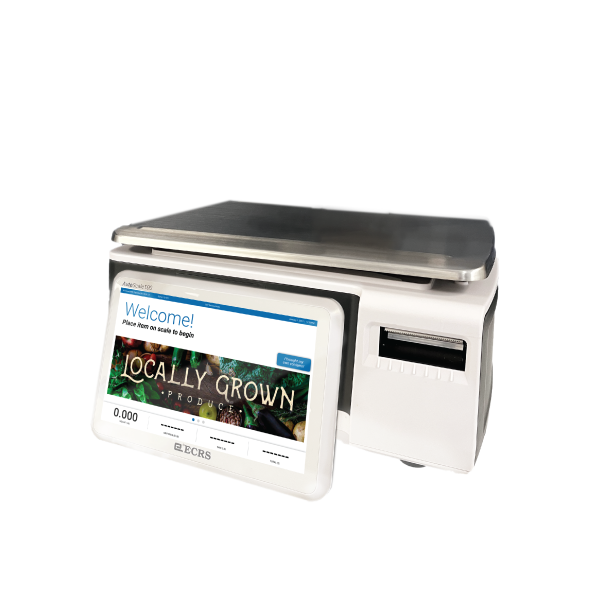 Bench Model
One associate-facing touch display, one customer-facing non-touch display. Displays at level with the scale. Ideal for taller, customer facing counters like a traditional deli case.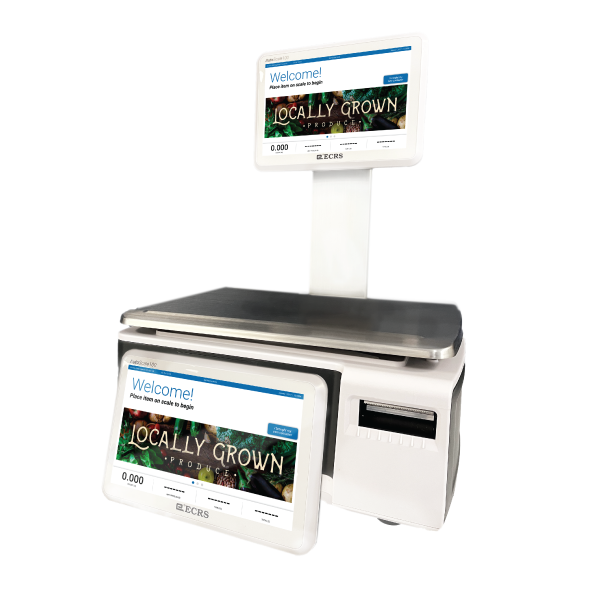 Post Model
One associate-facing touch display, one customer-facing non-touch display that sits on a pole mount above the scale. Ideal for hip-height, customer-facing counters.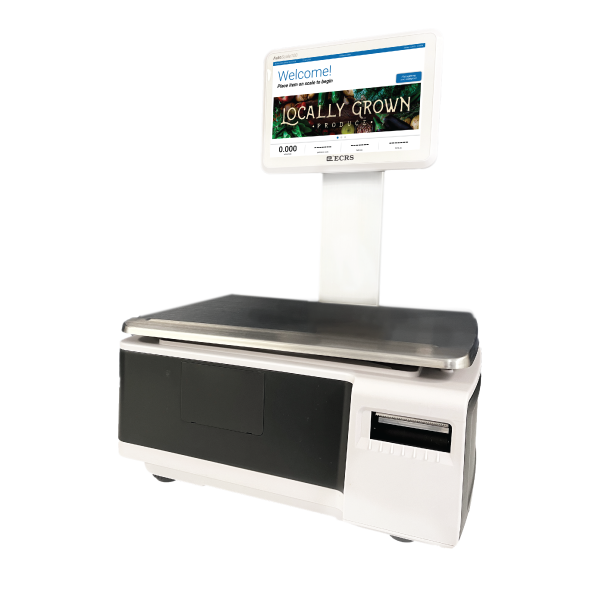 Single Model
One touch display on a pole above the scale. Ideal for non-customer-facing applications like backroom weighing, labeling, and inventory adjustments.
Built to Last
When it comes to computing power, the AutoScale towers over comparable digital scales. More power = fewer resources used; fewer resources used = longer life.
No Middleware
Because the AutoScale is a native CATAPULT touchpoint, there is no need for middleware like E-Plum. The AutoScale connects directly to your point of sale database.
GS1 Capable
Using some of the most advanced symbology available, the AutoScale can pack Net Weight, Item ID, Pack Date, and Price data into a single barcode
Quick-Change Labels
Quick change label cassettes allow you to spend less time fighting with label spools and more time getting products on display.
AutoScale

Hobart HT

Bizerba XC

Price
$4,500
$4,500 + Middleware
$4,500 + Middleware
Capacity
64 GB
8 GB
32 GB
RAM
8 GB
1 GB
2 GB
POS-Connected
by Default
YES
The AutoScale is preloaded with the CATAPULT POS solution and uses the same database as the rest of your store.
NO
This scale requires middleware to connect to CATAPULT.
NO
This scale requires middleware to connect to CATAPULT.
Inventory Management
Inventory adjustments can be made at the scale. (View Article)
Data & Updates
Bi-directional data replication
Data and updates can be controlled remotely at HQ and also made at the scale and pushed to the store database.
Batch Files
Changes must be manually conducted one scale at a time.
Batch Files
Changes must be manually conducted one scale at a time.
Menu Customization
Completely customizable (View Article)
Rigid menu options
"One Size Fits All" method with limited customization
Display
10" Operator
7" Customer
10" Operator
7" Customer
10" Operator
7" Customer
Support
Remote
Minimal Support Needed
In-person & Remote
Requires frequent support
In-person & Remote
Requires frequent support
Flexibility
3 Hardware Configurations
Can be used in attended or unattended modes based on needs.
3 Hardware Configurations
2 Hardware Configurations
⟵ Over 1,000 AutoScale Units Deployed Across North America ⟶
PROMOSCurrent AutoScale Promotions
* Click through the tabs below to view promotion details. *
Try Before You Buy for $525
We're so confident you'll love the scale, that we'll let you take it for a spin before fully committing. With ECRS' Try Before You Buy program, you can test out your new AutoScale for 90 days in your store. Simply put down an initial setup fee of $525 and an ECRS AutoScale expert will:
Ship you a scale
Help you set it up
Consult with you and customize for your retail needs
Review training resources
If at 90 days you decide to keep your scale, simply pay the remainder of the purchase price. If you don't (which we're sure you will), just send it back.
Trade-In Program
Have an old unit you are looking to upgrade? Submit the form below and we will give you up to $500 off the purchase of a brand-new unit with an improved display, printer, and processor.
Special Financing Options
With AutoScale Special Financing, you can buy now and pay later! ECRS now offers 12- and 24-month financing deals with rates from 2.99-6.95%. Submit the form below to see if you qualify.
"In terms of our WebCart picking process, the AutoScale is huge...To have something that is hooked up to CATAPULT and is receiving immediate updates on prices is great because it ensures the updated options are there for our pickers, and that those changes are reflected immediately. There is no way we would have been able to do that with a third party scale."
"The AutoScale works quite well in our high-volume deli department. The POS screen and item group configurations are a leap forward. Since it works as a CATAPULT terminal, we have eliminated the need for E-PLUM, and item updates are now in real time. We will be using the AutoScale in all of our locations!"
"Seamless integration with CATAPULT makes the Autoscale a must-have. It is the centerpiece for any high functioning deli or kitchen. Wireless syncing makes Autoscale placement and deployment very easy. Keep the people with all the knives and fire happy...Buy an Autoscale today!"
"For us, the AutoScale was a must-have for accurate and efficient picking of produce items for WebCart transactions. Without it, products were walked back and forth from the front end. The self-updating function is awesome as compared to our legacy scales that need a push a few times daily."
"We had a traditional standalone scale for years. Adding the AutoScale to our equipment allowed for autonomy and increased efficiency for our Deli staff in accessing it through CATAPULT. In addition, our inventory is more accurate now that transfers can be accomplished through the AutoScale.
FAQsFrequently Asked Questions
Do I need E-PLUM anymore?
No, the AutoScale connects directly to your store's CATAPULT database. You can change prices, labels, and keep track of inventory all at once, with no costly middleware.
Can I use this for e-commerce?
Yes, the Single Model is often used by pickers to quickly weigh and label produce for online orders.
How do I know if it's right for my store?
Test it out! First-time buyers can purchase one unit for a 90-day testing period. This allows you to set up and test the scale in whatever environment you see fit.
How do I update pricing?
Pricing is updated automatically since the scale is connected directly to your database. There is no need to wait for batch files to load; simply make the changes in WebOffice and go about your day!
How flexible is this unit?
Not only does it come in the different configurations, but you can also convert a Post model into a Bench if you need to repurpose or move the scale.
What kind of labels does the AutoScale use?
The AutoScale supports both die-cut and continuous labels. Combined with Jaspersoft, you can create any label you'd like in order to meet both regulatory requirements and/or personal preference. The interface also allows for on-the-fly format changes.
TRAININGSelf-Guided Training Resources
The Online Manual and Online Learning Center have many AutoScale resources to assist you in the setup, maintenance, and optimization of your AutoScale. Here are some of the highlights!
Order Your AutoScale Today!
For more information or to submit an order, please complete the form below.